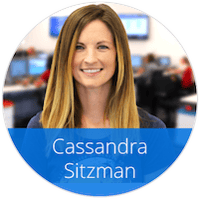 On our second week of Meet Mortech with our Customer Success team we want you to meet another one of our amazing Customer Success Managers, Cassandra Sitzman! Her role on the team is to help build and maintain a trusting partnership with Mortech's clients by providing efficient and reliable support.
Favorite part of the job: I really enjoy connecting with other departments and learning processes on a macrolevel, in addition, being part of a team that wants to provide industry leading customer service. Zillow Group really values their employees also by providing great benefits and work-life balance.
Favorite things to do on her days off: I enjoy traveling with my family, visiting my folks, or even having a productive day at my house.
Favorite place to travel: My husband and I lived in Colorado for over a year, so we love to take our son back there once a year to go hiking, fishing and sightseeing.
Advice for using our pricing engine: Jump in! Get comfortable and more independent by utilizing the resources provided within the system. There are several tools within Marksman that help empower our users and provide clear instruction for system inquiries.
To learn more about Marksman, click here!