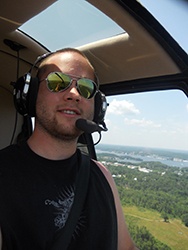 This week we're showcasing Graphic Designer, Austin Lehr. Austin lives in Lincoln, and has been working at Mortech for three years.
Favorite things to do on his days off: Golf, play soccer, go to the lake, hang out with friends, and play card games.

Favorite place to travel: I haven't been to many places, but the Bahamas are probably at the top.

Favorite time of the year: Any time I can go outside in shorts.
Favorite thing about working at Mortech/Zillow: My co-workers are always chipper.
Favorite feature of Marksman: The message center. We're always sending out updates and statuses on Marksman, from feature enhancements to alerts for lenders, and keeping everyone informed.
Marksman Insider Tip: Be sure to utilize the message center and track any relevant updates in Marksman as soon as they happen!
Last week we showcased Marketing Manager Katie Sheridan, which you can find here.Or to learn more about Marksman, you can click here.