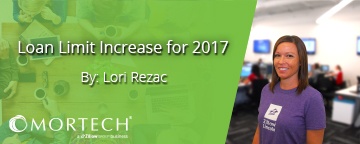 The Federal Housing Finance Agency has announced an increase in the loan limits for loans acquired by Fannie Mae and Freddie Mac in 2017. The loan limit for a 1-unit in most of the country will be upped from $417,000 to $424,100. This is the first baseline increase since 2006. Any increase in the loan limit was put on hold until the average U.S. home price returned to its pre-decline levels. This is the first year home prices have not been below the third quarter 2007 levels.
High cost area are 150 percent of the baseline loan limit and will also experience an increase in 2017, due to the increase in the baseline limit. The loan limit for 1-unit properties in high cost areas will be $636,150.
Alaska, Hawaii, Virgin Islands, and Guam have different calculations and will be experiencing increases as well, with the baseline limit of $636,150.
The full list of loan limits by county can be found at the here.
VA and FHA have also announced their loan limits for 2017 aligning with the increased conforming loan limits announced by FHFA and the GSEs with last week.
FHA released Mortgagee Letter 2016-20 stating increased loan limits for case numbers assigned on or after the 1st of the year. Low cost areas are set at 65 percent of the national conforming limit. High cost areas are set at 150 percent of the national conforming limit. Along with the loan limit updates, there were also four renamed counties/MSAs.
VA released Circular 26-16-36 with their announcement that loan limits will be based off the maximum guaranty amount, as it has been in the past. When determining the amount of the guaranty, lenders are to use only the one-unit limit according to the Federal Housing Finance Agency (FHFA) table.