On May 1st, the Texas Mortgage Bankers Association kicks off its 100th annual convention in San Antonio, shifting our focus to the lone star state. Wanting to see if everything really is bigger in Texas, we compiled Marksman® data of the average loan amount, FICO, LTV, and mortgage rate from the last year and compared it to the national average.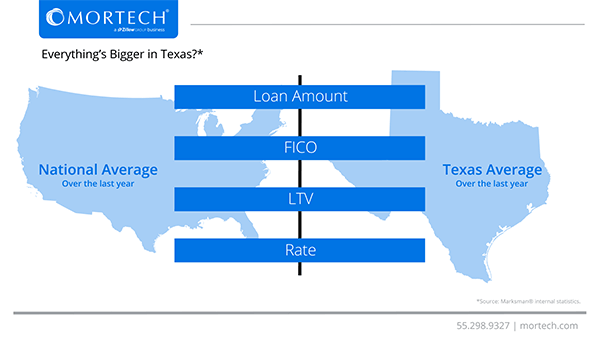 Looking at the data, the results are split down the middle. The national average is $50,000 higher than that of Texas, and it also slightly edges Texas's average FICO with a seven-point margin as well. Texas does have a lower average LTV with 76.75% compared to the national average of 80.73%. It also does boast one stat that's bigger, however, being average mortgage rate actually makes it less ideal in this case, although it's only .4% higher than the national average.
As it turns out, from a mortgage standpoint, not everything is bigger in Texas. However, with loan amount and FICO being relatively close to the national average, it's fair to say that the state pretty closely follows the national trend.
Going to TMBA's annual convention? So are we, and we'd like to schedule time to meet with you about our mortgage pricing engine. Not going to the show, or can't wait that long to hear about all we can do for your business? No problem, you can schedule a free demo with us today.