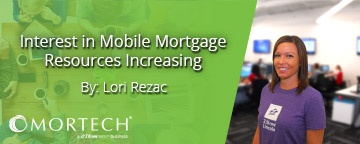 Consumers and lenders have been slow to adopt the end-to-end mobile experience. But expectations are shifting for a more robust mobile experience, including for financial and mortgage activities. Fannie Mae conducted a survey with approximately 1,200 low-and moderate-income homebuyers in Q1 of 2016 of the consumer mortgage shopping and origination experience for purchase mortgages. What they found was a doubling of current and future interest for mobile mortgages from the previous year. This number is expected to be even higher for higher-income consumers.
Online resources are cited as being as influential as lenders when making a mortgage decision, according to the article posted by Fannie Mae. Half of low- and moderate-income homebuyers interact with their lender with a combination of online, in-person, and phone channels. The other half use mostly in-person and phone channels.
Research activities for mortgage shopping is highest compared to the end-to-end experience, possibly due to the lack of lenders offering the latter. The article suggests there are significant opportunities to meet consumer demand beyond this. Many mortgage lenders are already starting to develop and build out their mobile apps. Lenders may end up playing less of a role with consumers and new loyalties may disrupt traditional relationships between the consumer and the lender.