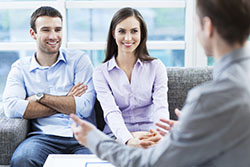 The CFPB recently announced an amendment to its definition of QM that included additional exemptions to the QM rule for certain non-profits and also enacted a cure for the "points and fees" test.
CFPB's final rule amended the "exempted transaction" list to provide that certain interest-free, contingent subordinate liens originated by non-profit creditors would not be counted towards the credit extension limit of 200 transactions that qualifies a nonprofit for the nonprofit exemption. Specifically, the rule excludes consumer credit transactions if the transaction is secured by a subordinate lien; for the purpose of down payment, closing costs, or other similar home buyer assistance, such as principal or interest subsidies; for property rehabilitation assistance; for energy efficiency assistance; or for the purpose of foreclosure avoidance or prevention. Additionally, the consumer credit contract must not require payment of interest; must provide that repayment of the amount of the credit extended is forgiven either incrementally or in whole, at a date certain, and subject only to specified ownership and occupancy conditions. The HBA (Home Buyer's Assistance) program, from NIFA (Nebraska Investment Finance Authority), as most HFA's, is a perfect example of the exempt transactions that would be included in this amendment. HUD has also adopted this portion of the amendment, stating that this fits within its mission to provide loans to low and moderate income borrowers.
The CFPB also has approved a cure for the "points and fees" test. The cure states that the Lender has 210 days from the closing date to reimburse the borrower any inadvertent fees that exceeded the QM limits (3% for loans over $100,000). HUD did not adopted this portion of the amendment. HUD has concerns that this cure may affect the legally mandated 3.5% down payment required to be paid by the borrower on FHA transactions. They did provide some guidance on the subject stating that Lenders have the right to cure the points and fees test prior to insurance endorsement (no more than 60 days after closing), if they adhered to FHA's policies----including the mandatory 3.5% down payment rule.
The effective date for these changes is November 3, 2014.
Did you know Mortech has automated QM and compliance checks built into our mortgage pricing engine? Find out more here.