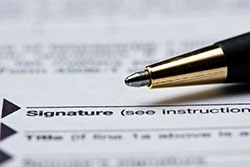 The CFPB has recently put out a proposed rule change and request for public comments regarding Regulation C, and more specifically, HMDA (the Home Mortgage Disclosure Act). HMDA, enacted in 1975, requires that many lenders report information regarding home loans for which they receive applications or originate or purchase. The information is available to both the public and to regulators who can use it to monitor whether financial institutions are serving the needs of their communities and to identify discriminatory lending patterns. The Dodd Frank Wall Street Reform and Consumer Protection Act authorized CFPB to expand the HMDA dataset to gather additional information that might be helpful to better understand certain aspects of the market.
The proposed changes to the rule are intended to improve the quality of HMDA data and include:
Specific new information that could help identify potential

discriminatory lending practices. These include property value, term of the loan, total points and fees, information on teaser or introductory rates, and the applicants' age and credit score.



Additional information on underwriting

and pricing such as debt-to-income ratios, interest rates, and total discount points changed. This information would help regulators determine how the Ability-to-Repay rule is impacting the market and check on developments in specific market such as multifamily or affordable housing. This proposed rule would also require some lenders to report on all loans related to dwellings including reverse mortgages.
The bureau is considering raising the reporting threshold to 25 or more closed-end loans or reverse mortgages in a year. In addition, the proposal would eliminate reporting of certain home-improvement loans. Currently, financial institutions must submit reports on their mortgage lending activities even if they write just one home-purchase loan or refinancing in a year. The Bureau is proposing to align many of the HMDA data requirements with the widely used Mortgage Industry Standards Maintenance Organization (MISMO)data standards for residential mortgages, and it believes that having consistent data standards for both industry and regulatory use promotes regulatory compliance, improves regulatory clarity, market efficiency, and data utility.