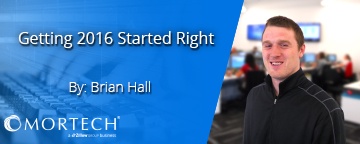 In a recent survey from National Mortgage News, findings showed that several lenders are shifting their focus in 2016 to improving customer relations and service, as well as an increase in marketing efforts, and improvements in business processes and lead origination. The survey, released in October of 2015, showed a 10% increase in respondents that said customer relationship management would be a high priority in the coming year, and had the largest increase of all possible responses. This interest has been reflected pretty heavily in the industry already with companies acquiring CRM vendors to fit this growing need.
Fortunately for Marksman users, though, our mortgage pricing engine includes several robust CRM tools that make keeping strong customer relationships incredibly easy. Our dynamic pipeline is a one-stop-shop to keep you in the know on you daily tasks, keep prospects organized, monitor new leads coming in, and keep track of follow-up appointments with those leads. You can also utilize rate trackers, keeping borrowers up-to-date on any rate changes as they happen, and improve borrower experience.
Marksman users also have access to unique marketing tools as well. Users have the ability to create unique drip marketing campaigns to their clients, fully customizable from the messaging, to the layout, to when it's delivered. They can use these campaigns from something as simple as a seasonal special, or as complex as detailing specific refinance scenarios to clientele. The choice, and ability to create and customize the campaign, rests with them. We also provide lender websites for those who want to build and bolster their online presence in a time when more and more consumers and leads are shifting to online means for handling their mortgage needs. Our team can quickly build a website for your business that's both simple to use, and gives you exposure to online leads.
As those leads come in, we also provide tools for you and your Loan Officers to keep track of them, ensuring that none slip through the cracks. Our unique dialer system allows for several different loan officers to be contacted simultaneously as a lead comes in, with the first respondent picking up the lead. This allows for all leads to go attended for, and gives LOs a tool to work with each other to bring in leads.
As we enter into 2016, make sure you're getting off on the right foot by giving your business all of the best tools it can have to be successful. Contact us today about how you can begin utilizing Marksman and the wide range of tools it offers.