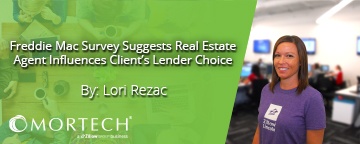 In a survey commissioned by Freddie Mac, if a real estate agent likes doing business with a certain lender, they will be more likely to refer them to clients. Eighty-four percent of real estate professionals refer clients to their select group of lenders, according to the article posted on the Agency's website. Most only have 1-3 lenders in their network and say their clients almost always use their recommended lenders.
According to the survey, 55 percent put "attracting potential buyers" and "attracting potential sellers" at the top of their list of job challenges. When it comes to homebuyers, the top challenge facing real estate agents is the lack of inventory in a buyer's price range (55 percent) and a client's unrealistic expectations (52 percent).
Only 50 percent of real estate professionals feel confident to educate buyers on the mortgage process, with 30 percent feeling confident to educate on down payment assistance program options. Thirty-eight percent said their clients would trust their opinion when finding a housing counselor for further education in the process.
In a comment from Freddie Mac's Vice President of Government and Industry Relations, Jeffrey S. Markowitz, "We want to help [real estate professionals] clear the path to the closing table by providing information that may allow them to provide even more options to their clients and grow their business."