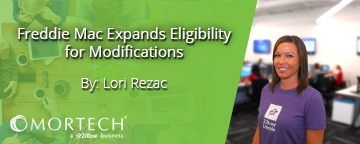 Freddie Mac has made revisions to their modification eligibility requirements in order to allow more borrowers to qualify for modifications. As announced in Guide Bulletin 2015-15, the MTMLTV ratio calculation used for Standard and Streamlined Modifications will be changed to include the unpaid principal balance (UPB), and the principal forbearance amount and/or any arrearages that may be capitalized, divided by the property value. The previous calculation included the UPB, with any applicable principal forbearance amount, divided by the property value obtained. Freddie Mac stated that this will increase the number of borrowers who may qualify for Standard and Streamlined Modifications.
Another change being made, keeping in line with making credit more accessible, is to Freddie Mac Streamlined and MyCity Modification eligibility. The MyCity Modification program was created to provide severely delinquent borrowers with an up to 60% reduction in the monthly principal and interest payments, and is available in communities hit hardest by the housing crisis. According to the bulletin, a borrower meeting all of the following characteristics is eligible for these modifications:
The mortgage is not a Step-Rate Mortgage; and
The borrower's mortgage was current for each of the five months prior to the Due Date of Last Paid Installment (DDLPI) and didn't make a payment after becoming delinquent; and
The borrower has not provided a reason for default or the reason provided is not an eligible hardship according to Section 65.17; and
The borrower's FICO® is 750 or greater
The changes go into effect on March 1, 2016 and should help provide more affordable mortgage payments to those borrowers who really need them.