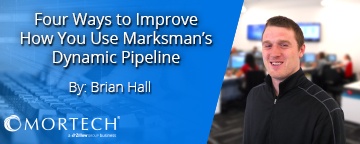 Earlier this week, we released a blog detailing our Dynamic Pipeline with Marksman. This CRM tool offers an incredible amount of versatility when it comes to loan officers sorting through current and potential prospects. But the pipeline has several tools and features which may not be being fully utilized. So, we put together four ways you can improve how you're using the Dynamic Pipeline, and giving your LOs the best possible ability to manage and reach out to prospects.
Number 1: Logging Dispositions Into the Pipeline
Say you want to schedule a call with a prospect. By logging the call in the pipeline, the prospect will remain on the dashboard with an icon that will change 15 minutes before the call is scheduled to occur. A loan officer can log up to 50 different prospects in each bucket of the pipeline, however that number is ultimately determined by the system administrator. Make sure you have your settings in such a way that your LOs can log all of their prospects and meetings into the pipeline!
Number 2: Customize Wait Times Between Each Disposition
What if you call the prospect you logged into your pipeline and they don't answer? Or what if you're talking and they suddenly have to hang up? When you're logging a disposition, you can denote how the call ended, and include a customizable time that you want to get in touch with the prospect again. Each LO can customize their own wait times for each different scenario, and the meeting will automatically update within the pipeline. Furthermore, if a prospect hangs up, but you know that they won't be available for three hours even though your custom wait time is set for two, you can change the time on the same screen.
Number 3: Set Up Prospect Summaries
System administrators can set up prospect summaries that will automatically update for each unique prospect. This way, when a loan officer clicks on a prospect, the summary will appear within the pipeline detailing extra information that they need to know i.e. loan type, amount, number of cosigners, etc. Because these summaries change automatically based on each prospect, administrators don't have to constantly go in and change them based on the prospect. Furthermore, administrators can also designate a separate summary for any refinancing prospects, so that loan officers can easily designate between borrowers and refinancers.
Number 4: Import Property Info From Zillow
Importing property information from Zillow is one of the easiest ways to maximize pipeline management and organization, not only because of the time it can save loan officers, but also because it's all information pulled directly from the web. When filling in property details for a prospect, you can actually import the property information directly from Zillow's website, which automatically adds those same fields within your prospect's information.
These four simple steps are not only easy to implement into your pipeline, but also provide several ways to save time and maximize efficiency for loan officers. This allows them to spend less time navigating and filling in information, and more time talking with prospects and bringing in loans. To find out more about these features or how you can begin utilizing them within Marksman, you can contact your account manager, or email us at support@mortech.com. Or if you're not a Marksman user and want to learn more about how you can get your own dynamic pipeline, you can set up a free demo with us today.