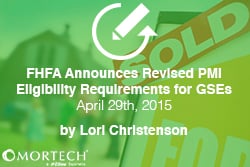 The Federal Housing Finance Agency (FHFA) has announced a clear a comprehensive set of standards for private mortgage insurance companies issued by Fannie Mae and Freddie Mac. These requirements go into effect December 31, 2015 for existing approved insurers and immediately for new applicants. The updated Private Mortgage Insurer Eligibility Requirements (PMIERs) will be put in place in order to lower the risk for the enterprises and ensure private mortgage insurers will be able to weather an economic downturn.
The updates include financial and operational standards that the insurers must follow in order to receive approved insurer status with the Enterprises, which include:
Newly-approved insurers must have no less than $500 million in initial capital funding,
approved insurers must have access to enough capital to fulfill all mortgage guaranty insurance commitments,
approved insurers are required to have a documented risk diversification policy,
approved insurers must keep updated guidelines, which are transparent and accessible, and
underwriting guidelines must be applied consistently to each borrower.
Fannie Mae and Freddie Mac have both provided additional resources for the updated standards including FAQs and an Implementation Timeline available on their websites.
We look at industry happenings and updates every week.