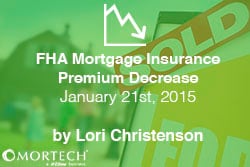 President Obama announced at a speech in Phoenix on January 8, 2015 that annual mortgage insurance premiums for Federal Housing Administration (FHA) loans will be decreasing this month. The announcement comes a month after the release of new 97% LTV products from Fannie Mae and Freddie Mac aimed at first time homebuyers. The lower FHA premiums are expected to increase homeownership, especially among middle-class families, and to stimulate the housing market that is still on its way to recovery following the housing crisis.

The very next day, HUD released Mortgagee Letter 2015-01 announcing the 50 basis point mortgage insurance premium decrease for loans with terms greater than 15 years. This is for all Title II loans (with two exceptions) with case numbers assigned on or after January 26, 2015. In order for borrowers with active case numbers to benefit from these decreases, FHA will allow lenders to cancel current case numbers for a limited amount of time. Current FHA borrowers will need to refinance their loans in order to take advantage of the rate decrease which the White House claims may save the average borrower $900 a year.

Over the last couple years, mortgage insurance premiums have continued to increase due to a sagging mutual mortgage insurance fund hindered by the high rate of foreclosures during the housing crisis. The mutual mortgage insurance fund insures the mortgages guaranteed by the FHA.

This has made it more difficult for lower income families to qualify for the FHA program, causing many to rent in order to avoid the high costs associated with buying a home and the lack of other available financing. The decreased mortgage insurance premium associated with FHA programs will better help these families qualify for a mortgage.