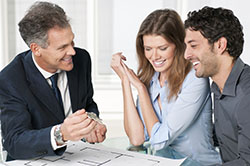 The Federal Housing Administration (FHA) is trying to get back to lending in the low-moderate income level, to borrowers with less than perfect credit scores. Still, FHA officials have stressed that the agency will not roll back its 1.35% annual mortgage insurance premium or its 1.75% upfront premium, although the industry would view that quite favorably. Though such a change would make loans more affordable, the FHA had to raise premiums to strengthen its insurance fund, which must maintain a 2% surplus (by law).
The share of FHA borrowers with credit scores between 640 and 680 "is half the size of what it used to be." Lenders have essentially retreated from lending to that segment of the market, resulting in the loss of a borrower class over the last 10 years. Since 2013, the FHA has intentionally pulled back from insuring loans to borrowers with strong credit scores and ceded that market share to Fannie Mae and Freddie Mac for borrowers with FICO scores of 680 or more. Recently, efforts have been underway to get lenders to remove so-called credit overlays - FICO score requirements of 680 or more that are used to screen out borrowers with a higher probability of default. Some lenders have lowered credit score requirements this year, largely to drum up business. Many others haven't budged from imposing credit overlays out of fear they will ultimately be forced to eat losses for any FHA loans that default.
The FHA's new goal is to originate at least 75% of new originations with credit scores below 680, which would be more in line with its intended housing mission.