When the Fed announced a rate hike at the end of 2015, the industry outlook was that mortgage quote volumes would begin to drop as rates began to climb. However, just two months into the year mortgage data indicates that despite the announced hike, mortgages are actually hitting much higher marks across the board than in years past. Exhibit A of this occurring is in February of 2016, for which we pulled some Marksman data to take a closer look at: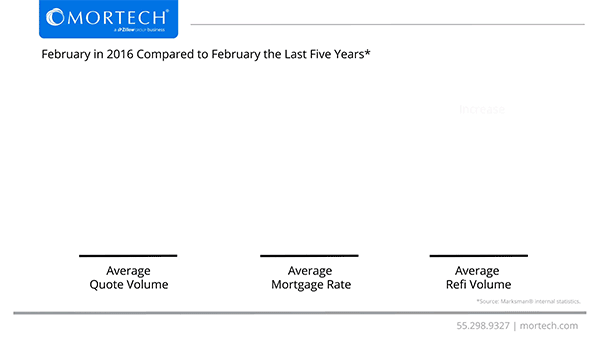 From the above data, you can see that average quote volume in February of 2016 jumped up 45% over the last five years. This is directly correlated with the lowered average rates, which were 9.45% lower than the last five years, in spite of the Fed announcing that rates would be going up.
The biggest change, though, was refinance volume, which increased a whopping 54% from the average of the last five years. This is likely due to the both the much lower average rates, and the fact that the Fed announced that they would be hiking rates in 2016. Because rates are expected to go up, but have yet to do so, it's logical that many are looking at refinancing now while there's still low rates to take advantage of.
We'll continue to monitor quote and refinance volume, as well as mortgage rate changes, to see if things eventually settle down in 2016, or if the spring shows us numbers and averages that resemble those of February.
No matter how things change, you'll want to make sure you're putting fast, accurate rates online in front of thousands of borrowers every day. Schedule a demo with Mortech today and find out how we can improve lead generation, and help you close more loans with our pricing engine.