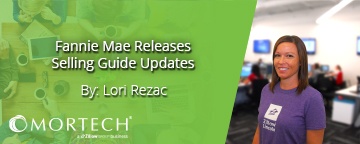 Fannie Mae has released a number of Selling Guide updates in Announcement SEL-2016-08. Among the updates announced are enhancements to HomeReady®, as well as a new DU validation service for income.
The HomeReady product is continually assessed to ensure it is meeting the needs of the customers it is put in place to serve. In an effort to meet these needs, Fannie Mae has announced enhancements to the product, including:
Maximum LTV for one-unit limited cash out expanded from 95% to 97% when the refinanced mortgage is owned by Fannie Mae.
ARMs have been expanded to allow 3- and 4- unit properties.
When at least one borrower completes pre-purchase housing counseling, as evidenced by Form 1017:

and the loan is delivered with a Special Feature Code of 184, a LLPA credit of $500 will apply; and
housing counseling will be considered a compensating factor for an expanded maximum DTI ratio of 50%.
Updates to HomeReady are available for case files submitted or resubmitted to DU Version 10.0 on or after December 10, 2016.
A new opt-in service is now available through DU allowing lenders to perform an income validation. This will provide the lender with "certain representation and warranty enforcement relief", according to the announcement. The following vendors can be validated through the system:
The Work Number® from Equifax®
Tax transcripts provided through the Equifax 4506-T Tax Transcript Service.
The income validation service is available immediately through DU Version 9.3 and Version 10.0 for lenders who have chosen to opt-in. Additional information is available on Fannie Mae's website.
In addition, the following updates have been announced:
Additional availability of property inspection waivers to all lenders with no prerequisites or registration starting the weekend of December 10, 2016.
Removal of the project review requirement for site condos.
Addition of the new three-month seasoning option for Fannie Majors program.
Removal of the requirement that Garnishments must be paid off prior to closing.
Co-borrower self-employed income no longer needs to be documented or evaluated if it is not used for qualifying purposes.
Extension of the DU Refi Plus and Refi Plus products to September 30, 2017.
Other updates to the guide, including revisions to Rhode Island and Massachusetts security instruments, and clarifications on selling guide sections B4-1.3-05 and B3-2-10 are also mentioned in the update.