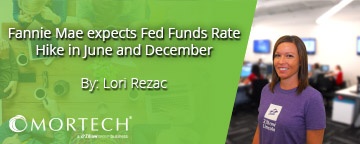 Moderate housing expansion and flat economic growth were the topics in Fannie Mae's Economic and Strategic Research Group's March 2016 Economic and Housing Outlook. Financial markets appear to be improving as we move through 2016, but economic growth is only expected to be at 2% percent this year, according to the article.
With all the bad comes some good news. There are positive indicators, which include strengthening domestic consumer and business spending, along with a healthy labor market that should soften the blow.
"We see lingering effects of the strong dollar, low oil prices, and soft overseas demand creating a drag on economic growth," said Fannie Mae Chief Economist Doug Duncan. "However, the economy appears to have regained some footing after a slowdown in the fourth quarter of 2015, as stocks bounced back and oil prices have risen amid a strengthening labor market," Duncan continues.
Duncan adds that this supports the expectations of the fed funds rate increasing 25 basis points twice this year, in June and December. With high home prices a top reason for consumers believing it's a bad time to buy a home, Duncan continues, "low mortgage rates should help support moderate housing expansion as we move through the year."