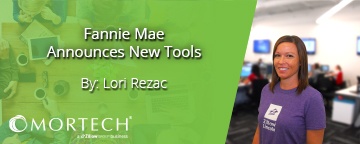 In Mid-October, Fannie Mae announced a series of innovations to their suite of products that will give lenders and borrowers more certainty during the mortgage loan process. Fannie Mae announced plans in June to decrease lender costs and enhance the technology platform to make the mortgage lending process more innovative and efficient.
Changes coming in the next year include the following:
In mid-2016, lenders will have the ability to use trended credit data through Desktop Underwriter®, which includes access to a borrowers monthly payment amounts.
Desktop Underwriter® will be updated in 2016 with the ability to support a nontraditional credit history, currently requiring manual underwriting.
Fannie Mae Connect will be offered in late 2015 as a one stop resource for data and analytics.
In 2016, lenders will be allowed to verify income through Desktop Underwriter® with data provided by Equifax's The Work Number®. In the future, Fannie Mae is determining if validation services for additional documents, including bank statements and tax returns, can be offered.
These innovations put Fannie Mae one step closer to automating the mortgage lending process and promotes efficiency within the mortgage lending process. This not only saves lenders money, but saves time and energy in avoiding the manual processes that have been a part of mortgage origination for years. It allows mortgage professionals to focus on what is important for a healthy pipeline.