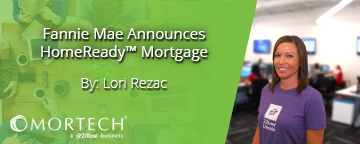 Fannie Mae has announced a new enhanced affordable lending product called HomeReady™ mortgage, a new low down-payment loan allowing qualified borrowers up to 97% financing. The product is aimed at borrowers with lower and moderate incomes and will replace the MyCommunityMortgage® product later this year.
Notable features of the product include:
Improved pricing, which includes eliminating or capping loan level pricing adjustments.
Expanded eligibility for properties located in low-income, minority, and disaster-impacted areas.
Income from non-borrowing household members can be considered in the debt-to-income ratio, supporting extended family households.
Lower mortgage insurance (MI) requirements, only requiring MI on LTVs from 90% to 97%.
Requirements of HomeReady™ include a required online educational course, called Framework. The course requires 4-6 hours of the borrower's time along with a $75 fee and teaches the borrower the fundamentals of home buying and home ownership.
Fannie Mae will be providing additional details in the next few weeks and anticipates accepting loan deliveries of the new product in late 2015.