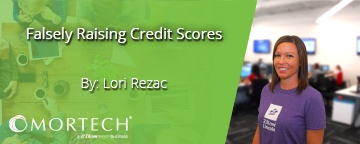 According to an article posted on www.freddiemac.com, falsely raising your credit scores is a form of fraud that can land some in legal trouble. The article mentions three ways in which consumers are lured by a person or credit repair service to raise their credit score:
Disputing Credit with the Bureaus – the bureaus are improving their error fixing processes for the legitimate disputes and consumers can now check the FICO score version that mortgage lenders are likely to see. Unfortunately, some may take advantage of this and repeatedly dispute defaulted credit to the point where the creditor will miss responding and the debt temporarily disappears.
Falsely Claiming Identity Theft – this is as bad as actually stealing someone's identity. Some borrowers have gone as far as to provide affidavits and police reports. Lenders do investigate these claims and investigate, determining the legitimacy of the documentation.
Misusing Credit Protection Numbers – a Credit Privacy Number (CPN) may be used in lieu of a person's Social Security Number and helps shield your finances from the public. This is mostly used by celebrities and politicians, but some consumers are using it with the intention of creating a new credit profile.
It is up to the mortgage lender to combat credit score fraud by explaining to their borrowers that circumventing the credit controls sets them up to fail. Also, by a lender explaining the importance of paying bills on time and maintaining a healthy credit score, a borrower can understand what affects their credit score.