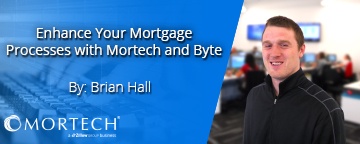 With mortgages, the time you save during processes is vital. We've written time and again about how saving a little time during your day can go a long way in maximizing your mortgage business, and it's still a priority for us to keep enhancing our software so that it continues to do so for our lenders.
It's this priority that has led us to integrate with companies that share that mindset. Recently, we announced an integration with Byte Software's LOS system, BytePro®, which adds mortgage eligibility and data directly into the interface. By doing so, lenders can now view and utilize mortgage pricing data and eligibility tools from directly within BytePro's interface.
Not only does this integration give lenders accessibility to important tools on one display, but also removes manual data re-entry, which reduces the possibility of human error, improving the loan-processing automation through multi-system interoperability. Through this streamlined automation, lenders can get more work done at a faster rate, and stress a lot less over processes that can now be done for them.
If automating and streamlining your mortgage processes sounds like something you want to race into, contact us today to find out more about how this integration can help you get more work done, faster. Already a Marksman user and want to know more about how to get setup with Byte? No problem, simply reach out to your account manger, and they can get you started!