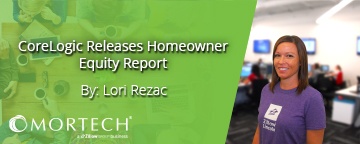 The Homeowner Equity Report has been released showing home equity growing in quarter two of 2016. The increase is attributed to rising home prices. The report showed 548,000 homeowners regained equity compared with the previous quarter. This added $646 billion to total equity, an increase of 9.9 percent over the previous year. With an increase of just 5 percent in home prices, an additional 700,000 would regain equity.
There are approximately 3.6 million homes in a negative equity position, or 7.1 percent of all residential properties with a mortgage loan. The national average of negative equity is at $284.3 billion, down $20.4 billion, or 6.7 percent, from the previous quarter.
Other highlights of the report include:
Nevada has the most negative equity, followed by Florida. The top five states account for 33.7 percent of the negative equity in the U.S.
Texas has the highest percentage of homes with positive equity, followed by Alaska.
Most positive equity is concentrated at the high end of the market, with homes valued more than $200,000.
Under-equitied properties (less than 20 percent equity) stand at 17 percent of properties with a mortgage.
In a statement regarding the findings of the report, CoreLogic's chief economist, Dr. Frank Nothaft said, "The CoreLogic Home Price Index for the U.S. recorded 5.2 percent growth in the year through June, an important reason that the number of owners with negative equity fell by 850,000 in the second quarter from a year earlier."
The amount of equity for each home is determined by the estimated current value of the property compared to the mortgage debt outstanding (MDO). Those with an MDO greater than the estimated value are determined to be in negative equity positions. CoreLogic has data from 49 million properties with a mortgage, including first and second liens. The current value of the property is figured using CoreLogic tools such as the Home Price Index (HPI) and other valuation models.