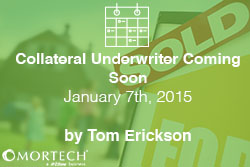 Fannie Mae had announced plans to release a new risk-assessment tool in late January for appraisals of property used as collateral for their loans. The Uniform Collateral Data Portal was developed by Fannie Mae in 2012 and has now collected electronic data on over 12 million appraisals and 20 million transactions. This huge amount of data will be used to help Collateral Underwriter (CU) to analyze the risk that lies within newly submitted appraisals. The process for CU is as follows:
CU will provide additional transparency and certainty by giving lenders access to the same appraisal analytics used in Fannie Mae's quality control process.
CU performs an automated risk assessment of appraisals submitted to the Uniform Collateral Data Portal (UCDP) and returns a risk score, flags, and messages to the submitting lender.
CU leverages an extensive database of property records, market data, and proprietary analytical models to analyze key components of the appraisal including data integrity, comparable selection, adjustments, and reconciliation.
Fannie Mae will make CU available at no charge so lenders can take full advantage of the application for quality control and risk management purposes.
Lenders will be encouraged to utilize Collateral Underwriter in the following manner:
Lenders may use the CU Risk Score to segment appraisals by risk profile, resulting in more efficient resource allocation, workflow management, and collateral risk management processes.

Risk flags identify appraisals with heightened risk of quality issues, overvaluation, and property eligibility or policy compliance violations.

Detailed messaging directs reviewers to specific aspects of the appraisal report that may warrant further attention.

Perform in-depth analysis using CU's dynamic web-based interface that includes comparable sales data, market trends, mapping, aerial photography, public records, and other functionality to assist with manual review of the appraisal.
Fannie Mae states that, later in 2015, CU will be integrated with DU to give Lenders a total risk view of the loan. This may further help the lenders with the possible waiver for reps and warranties in value as is being currently discussed with their regulator (FHFA).