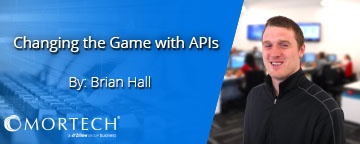 Many times, when a mortgage lender wants to bolster their web presence, they'll have someone build a website for them. This can be the right solution, and it's something that we offer to our users. However, having a website built for you isn't always the best solution, and some lenders prefer to go above and beyond a plug-and-play solution; building and developing their own interface that can still utilize Mortech tools and software. More and more banks are beginning to take notice of tools called APIs and how they can achieve this medium of self-innovation and partner integration, and they're something that Mortech offers a wide array of.
APIs (application program interfaces) are effectively sets of instructions that instruct software components on how to interact with each other. What this allows for lenders to do, in a mortgage sense, is implement different programs into their own website and online space to execute different processes that would ordinarily take a lot more time and effort from a developer standpoint.
For example, Mortech's rate APIs allow for lenders to advertise rates online, get investor rate sheet pricing, and get detailed loan scenario pricing and eligibility. And these aren't things that take lots of hours or manpower to set up. These are integration-friendly solutions that can be tested prior to building around by using "rest clients". Rest clients are programs that allow a business analyst to test an API prior to putting that API into the hands of their developers. So instead of going into the development process blind, the API can be tested to make sure it delivers exactly what your business needs. The API can then be easily integrated into your system, thanks to those easy-to-use tools that make them much easier to understand and implement.
Mortech APIs aren't just beneficial from a lender to consumer standpoint, but also in the "B2B" side of the industry as well. With Mortech APIs, lenders can create custom solutions that fit into their LOS and secondary marketing platforms. Not only is this beneficial to the consumer, but as the mortgage transaction evolves, the process is also streamlined on the backend. Can you imagine your loan officers accessing everything they need to do their job in a single web interface, utilizing one central site that manages the entire loan process? With APIs, the possibility of a more seamless and integrated process is well within our reach.
Moving into the future, APIs are going to vastly shape the way that online banking is done. Getting ahead in the game and being on the forefront of those changes is a good course of action to take in this changing mortgage landscape. Get in touch with us at Mortech today, and find out how you can begin using our APIs to improve your online experience for borrowers and your lenders, and keep your business moving forward.
Learn More About Our Mortgage APIs