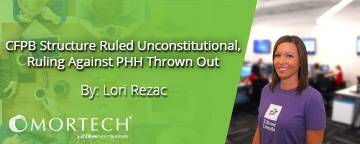 In a surprising victory against the CFPB, PHH has done what many lenders have only dreamed about. The D.C. Circuit issued its decision in PHH Corporation v. CFPB this week, stripping Director Cordray of some of his immense power and reversing a $109 million penalty against PHH. For the time being, the CFPB stays intact.
The problem with the structure of the CFPB fell on the fact that Director Cordray could only be removed by the president for cause, according to an article in the CFPB Monitor. The appellate court stated this was a "gross departure from settled historical practice." The removal-for-cause provision has been removed from Dodd-Frank with the director serving at the will of the President.
As for the vacated fine against PHH, which included a $6 million fine for accepting kickbacks for reinsurance arrangements, in violation of RESPA. The additional $103 million fine was added by Director Cordray for loans that closed on or after July 21, 2008. The original ruling was only for loans closed on or before July 21, 2008. The court agreed with PHH, stating the CFPB "violated bedrock due process principles by retroactively applying its new interpretation of the statute against PHH."
The CFPB also argued a three year statute of limitations which allowed for a dramatic increase in penalties sought against PHH was not addressed by the court.
The CFPB "respectfully disagrees" with the Court's decisions and is "considering options for seeking further review of the Court's decision." Further review on whether PHH violated RESPA as interpreted by HUD has been remanded by the court to the CFPB for consideration.