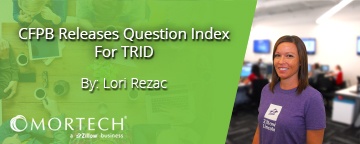 Following a series of webinars conducted by CFPB staff regarding TRID, a new index of the various questions asked during these sessions has been released. Links within the document take the reader to the recordings of the webinars. The date of the applicable webinar is included in the index so the reader may check for amendments that may be been released afterwards.
According to an article released by CFPB Monitor, there are two questions that were answered in the index prior to the release of amendments addressing the issues:
"Are creditors required to provide revised Loan Estimates on the same business day that a consumer or loan officer requests a rate lock?"

Prior to the amendment, the rule required issuance of the revision on the date the interest rate was locked.

After the amendment, the rule allowed three business days after the rate was locked to reissue the Loan Estimate.
"Where on the Loan Estimate form is the creditor supposed to provide the language described in 1026.19(e)(3)(iv)(F) for construction loans where settlement may be delayed?"

Prior to the amendment, the rule did not specify where to provide the language but only noted that the language must be provided on the initial Loan Estimate. This contradicted another section that stated the Loan Estimate may not be modified except as provided in the rule.

After the amendment, the rule allowed for this statement to be included in the "Other Considerations" section.
The index is to be used as another resource for those effected by the new rule to ensure a smooth implementation but should not be used as legal interpretation. According to the document, "only the rule, and its Official Interpretations can provide complete and definitive information regarding requirements."
We look at industry happenings and updates every week. Lately, we've been chronicling TRID developments as they happen, which you can continue to read up on here.