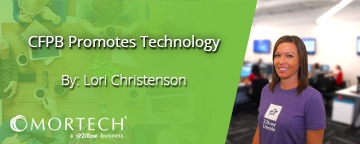 Recently, the Consumer Financial Protection Bureau (CFPB) has been promoting technology within the mortgage loan process and how it can improve the consumer experience by providing the consumer with a better understanding of the transaction. In a pilot released earlier this month, the CFPB focused on eClosings and how this option should continue to be utilized, particularly after the implementation of Know Before You Owe on October 3rd. The pilot conducted by the CFPB found that consumers were more familiar with the closing documents by the time the transaction was ready to close and the time spent at the closing table was decreased. By utilizing the eClosing option, consumers were more educated on the process and had more time to review closing documentation with the entire process being more efficient.
Complementing the eClosing process, Mortech provides tools for lenders that are looking to streamline the mortgage loan process and improve the consumer experience. Tools such as mortgage websites, provide lenders with a compliant 1003 application portal, educational materials for their consumers, as well as the ability to provide real-time quotes to a potential borrower, so they can feel confident they are getting the best rate possible. Mortech also allows lenders to integrate their loan origination system to automatically transfer information from Marksman into their LOS, increasing the efficiency of the process and avoiding costly errors.
Utilizing technology in the mortgage loan process benefits both consumers and lenders alike. By implementing systems that ensure accuracy and efficiency, while promoting education of the mortgage loan process, both parties walk away happy.
We look at industry happenings and updates every week. Lately, we've been chronicling TRID developments as they happen, which you can continue to read up on here.