Mortech never took its tuxedo off from the New Year's Eve extravaganza... and guess what? That fancy new look is here to stay. The next release is sure to be filled with all sorts of eye-appealing, benefit-filled features. What does this mean for our users?
Intuitive, inviting interfaces, so everything's easier to find.

1. NEW Dropdown Menu (Available in March's upcoming Release)
Easily access rates, prospects, products and reports from every page within MarksmanLMP with the newly revised menu.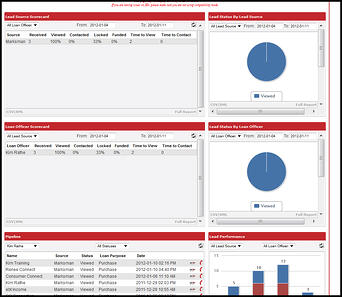 2. NEW Dashboard (BETA version available now)
MarksmanLMP's new home dashboard equips administrative users with:
lead source scorecards
loan officer scorecards
prospect pipeline snapshot
MBS Quoteline Graphs and news (for current subscribers)
3.NEW Prospect Landing Page (available in March's release)
Updated from November's release, users will be able to modify fields without leaving the page. Moreover, users can easily take notes and keep track of a prospect's status while setting up task reminders.
Why isn't there a picture of the new prospect landing page? Well, that's because it is too intense for a blog posting. You'll have to wait for March's release to witness its capabilities.
Do you remember the last time you were this excited about mortgage banking software? Us either!