Post by Bill Yeager, RealXReferral
Can you believe it's already March, and spring is just around the corner? Hard to imagine based on the frigid weather we've seen the past couple weeks. Spring means home buying season and big changes are approaching. The Mortgage Bankers Association predicts that Refinance mortgages will make up just 41% of the Origination $$ volume in 2011 compared to 69% in 2010. And, Origination total $$ volume will be just $1.05 Trillion down from a projected $1.8 Trillion according to Freddie Mac. So, Purchase mortgages will be the place to be for 2011. And Mortech is ready to SPRING you ahead of the competition.
A new partn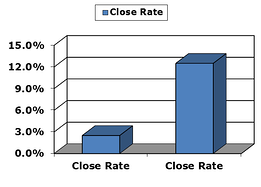 ership with RealXReferral allows Marksman users to avoid the #1 frustration loan officers experience on Purchase business – "the flip." The Smith's, those nice pre-approved borrowers you've worked so hard to gain? They met a real estate agent on their own and were flipped to a different lender. You were convinced they were going to get a mortgage through you – especially after all the hard work you did for them. But then they walked into an Open House and met an agent. Borrowers are harder to pre-approve than ever. Why would you go through all that work and then let them meet a real estate agent on their own who can torpedo your relationship with the borrower in minutes?
RealXReferral offers a national network of real estate brokerages (not agents) who want to partner with you to close the transaction and capture the mortgage. Brokerages on the RealXReferal platform certify a team of selected agents who are allowed to work on your business, RealXReferral gets you the support you need to move the borrower forward to closing on a home. And no more 'flips' to another lender.
So, how does it work? Everything is right inside Marksman:
1. Just select Match Borrower to Realtor fro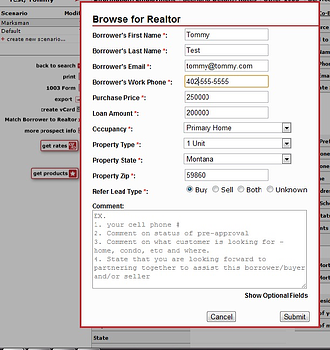 m the Borrower Information screen inside Marksman. Confirm the desired Purchase City and add some comments.
2. Submit the referral and your borrower is matched to the RealXReferral Broker Partner in seconds.
3. The Broker Partner will contact you and the borrower to get details on the pre-approval and what the borrower wants in a home.
4. Then, they will select the best agent on the team to assist the borrower. The selected agent knows that you are the source of the referral and that the borrower cannot be introduced to other lenders.
The program even updates your borrower automatically with status such as: Assigned to Agent, Making Offers, Contract on Home, etc. So you can engage when these important steps take place.
Stop finding out a borrower has a contract on a home when it's too late. Always be in the know and start closing more Purchase mortgages in 2011. Learn more about the program, talk to a Mortech Account Manager or connect with RealXReferral:
Bill Yeager
bill@realxreferral.com
951-966-2798.
We'll get you started in time for spring!