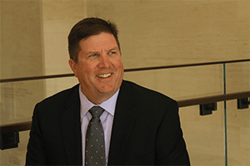 We are excited to announce that Don Kracl, vice president of mortgage tools for Zillow, has been selected by the Mortgage Bankers Association to speak at the organization's upcoming Technology in Mortgage Banking conference. The conference, being held in Los Angeles, California from March 18-21, will feature Kracl on a panel of experts speaking about effective mortgage loan lead sourcing and management as the industry moves back into a purchase money lending environment.
Kracl, who spoke on this topic last year as a keynote speaker for the SourceMedia Mortgage Technology Conference in Fort Lauderdale, Florida, has emphasized that that if bankers do not find a way to improve the experience for mortgage seekers before they reach the application stage, their costs will skyrocket and they will face more compliance risk as negatively impacted borrowers report them to federal regulators.
Kracl doesn't promote specific solutions during his addresses, even though his company's
mortgage lead management solutions
and
dynamic pipeline
have been shown to help lenders nurture and close more of the loans they buy and improve customer satisfaction. In Los Angeles, Kracl will speak about the issue as part of a panel of experts.