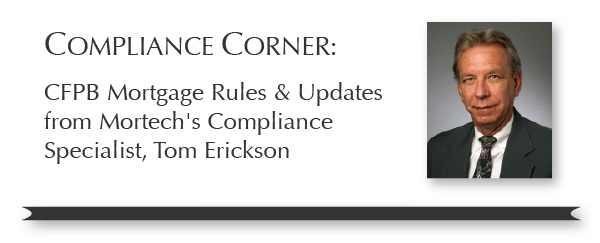 As we discussed in the preceding post, under the new QM rule, if a loan is classified as a safe harbor loan it will be substantially protected from litigation and class action suits for the ATR (ability to repay) compliance regulation. We spoke about the first safe harbor under that rule. The second is called the "3% points and fees" rule.
The rule actually has several different levels broken down as follows:
> or = $100,000 loan amount---3%
> or = $60,000 to < $100,000---$3,000 flat fee
> or = $20,000 to < $60,000-----5%
> or = $12,500 to < $20,000----$1,000 flat fee
< $12,500 --- 8%
This is where the numbers fall today. These dollar amounts will be adjusted annually for inflation by the CFPB.
In general, the "points and fees" charges would be the normal charges used in calculating the finance charges on the TIL, with the following exceptions:
Interest or the time price differential (interest adjustment)
Mortgage Insurance Premiums (exclude upfront and monthly for FHA, VA, USDA)-- Private mortgage insurance excludes monthly and annual premiums. On single premiums for MI which is refunded automatically on a prorated basis is excluded up to the same level of the upfront MIP charged on FHA loans (1.75%)—the rest would counted, if any. Also if the premiums are not refunded automatically or on a prorated basis—the entire amount would be included.
Bona Fide third party charges not retained by the creditor, loan originator, or an affiliate of either.
Real estate related fees—(Title insurance, doc prep, credit and notary fees, appraisal fees, amounts paid to set up escrow accounts for taxes and insurance)
The calculation does include premiums for credit life (paid up front), maximum prepayment penalty on the loan being originated, and the prepayment penalty paid in a refinance on the old loan. The amount of compensation paid to the mortgage broker by the creditor is also included.
Next time, we'll talk about the third safe harbor test offered for the QM / ATR rule.