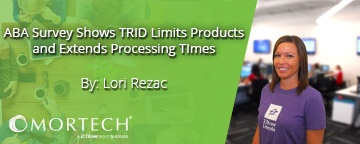 In a survey conducted by the American Bankers Association, findings show the effect TRID has had on lenders. Data was collected from 548 banker participants between February 1st to February 17th and shows that TRID compliance is still a relevant problem, according to the survey findings.
Many lenders have been forced to eliminate products that are not adequately addressed within the rule, including adjustable rate mortgages, construction loans, and home equity loans. Also, 77 percent of the respondents claimed that processing times have increased and loan closings are being delayed from one to 20 days due to the rule.
Many lenders were forced to restructure their departments and update their systems in order to comply. About half of the lenders surveyed have hired, or plan to hire, more staff. Lenders are reporting an increase of $300 to $1,000 per transaction due to the added costs of review and due diligence processes. This has an impact on the bottom line that is trickling down with about one quarter reporting an increased cost to the consumer.
While lenders are waiting to get some of these issues resolved, 94 percent of respondents are wanting the current "good faith" grace period to be extended by the CFPB. This grace period protects the lender against enforcement actions as long as they are acting in good faith to comply.